NS Plus® 115 – Copper-coated filler metal
NS Plus® 115 – Copper-coated filler metal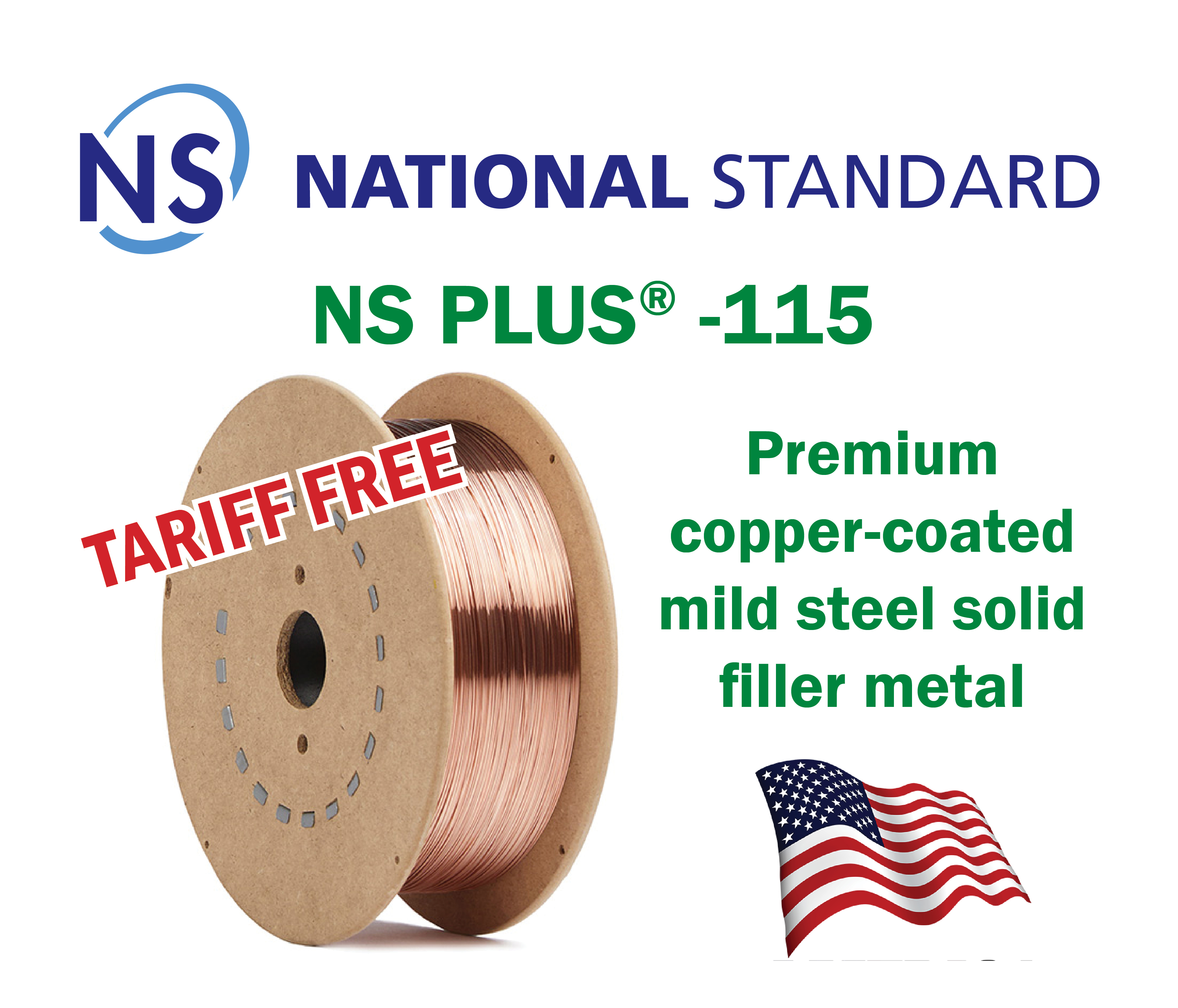 NS Plus® 115 is a premium copper-coated mild steel solid filler metal containing a high combined total of manganese and silicon. The wire produces a smooth, uniform welding arc, which minimizes weld spatter and results in excellent bead appearance and high operator appeal. The excellent operating characteristics of NS Plus 115 appeal to users seeking better performance in their ER70S-6 applications.
PRODUCED AT
Stillwater, Oklahoma
SPECIFICATIONS
AWS A5.18: ER70S-6 H4, AWS A5.18M: ER48S-6
ASME SFA-5.18: ER70S-6
AWS A5.17: EH11K (1/16″ dia. only)
CHARACTERISTICS
NS Plus® 115 Copper-Coated Welding Wire sets the standard in quality to support your GMAW operations.
Cast of 35 in. (88m) to 55 in. (1.3m) and Helix below 1 in. (25.4mm) improve feedability and provide accurate wire positioning
Higher Silicon content reduces the molten metal surface tension, resulting in flatter bead profiles
Excellent arc starts, arc stability and feedability
Minimal spatter and copper flaking
High level de-oxidizers
Excellent weld appearance and post weld cleaning
APPLICATIONS
All metal transfer modes of GMAW
Robotic, mechanized or semi-automatic welding
Welding steel with medium to heavy mill scale, light rust or thin oil
Single and multi-pass weldments
Applications requiring a minimum 70,000 psi tensile strength
TYPICAL APPLICATION SHIELDING GAS BLENDS
100% CO2
75-95% Argon/Balance CO2
95-98% Argon/Balance O2
Flow Rate: 35-50 CFH
WELDING POSITIONS
All position welding is possible when using the correct shielding gas blends, welding process and welding parameters.
STORAGE
Welding wire should be stored in a dry, enclosed environment and in its originally-sealed package.